Reporting an Alleged Ethics Violation
CCI utilizes the ANA Code of Ethics for Nurses with Interpretive Statements to guide certificant behavior. Nurses holding any CCI certifications are expected to demonstrate safety, competency, and ethical behavior in compliance with applicable laws and rules.
How do I file a complaint about a nurse?
Any person who has knowledge of conduct by a licensed nurse that may violate a nursing law or rule or related state or federal law may report the alleged violation to the Board of Nursing where the conduct occurred. Individual state BONs regulate and oversee nursing practice in the U.S. by enforcing the nursing laws of their state. BONs uphold their nurse practice acts and are charged with disciplining nurses who violate them.
How do I report an alleged violation of CCI's ethical, policy, or procedure requirements?
Any member of the public can submit an alleged violation against a CCI certificant. CCI certificants are expected to follow CCI's ethics, policy, and procedure requirements in addition to complying with the ANA Code of Ethics. If you are concerned that you, or someone else, may have violated one or more of CCI's ethics requirements, you can report your issue of concern to CCI. At its discretion, CCI may itself initiate complaints and investigate actions based on information obtained by or known to CCI (e.g., a certificant has falsified application information or CCI learns of information from newspaper, internet, state nursing boards or other sources).
Any individual may submit information to CCI alleging a violation of one of the reasons listed below:
determination that initial certification or certification renewal was improperly granted;
falsification or mis-statement of information on any certification-related document;
providing false or misleading information;
misrepresentation regarding credentialing status;
cheating or assisting others to cheat;
causing, creating, or participating in an examination irregularity;
assisting others to wrongfully obtain initial certification or to renew certification;
violation of CCI policy or procedure;
misuse of or misrepresentation with respect to the CCI credential.
In certain cases, CCI may refer complaints to the applicable state licensing board or other legal enforcement authority.
Processing a Report of an Alleged Violation
CCI takes all reasonable measures to ensure that any materials regarding a complaint or disciplinary action process are kept confidential and discloses only that information which is required to resolve the complaint. This information is disclosed only to designated staff, legal counsel, and/or other such authorities (e.g., state licensing boards, human resources personnel, etc.) whose role is deemed to be material to resolution. The information and materials related to the complaint may also be provided to the candidate or certificant who is the subject of the complaint if necessary to meet due process requirements.
General Process and Estimated Timeline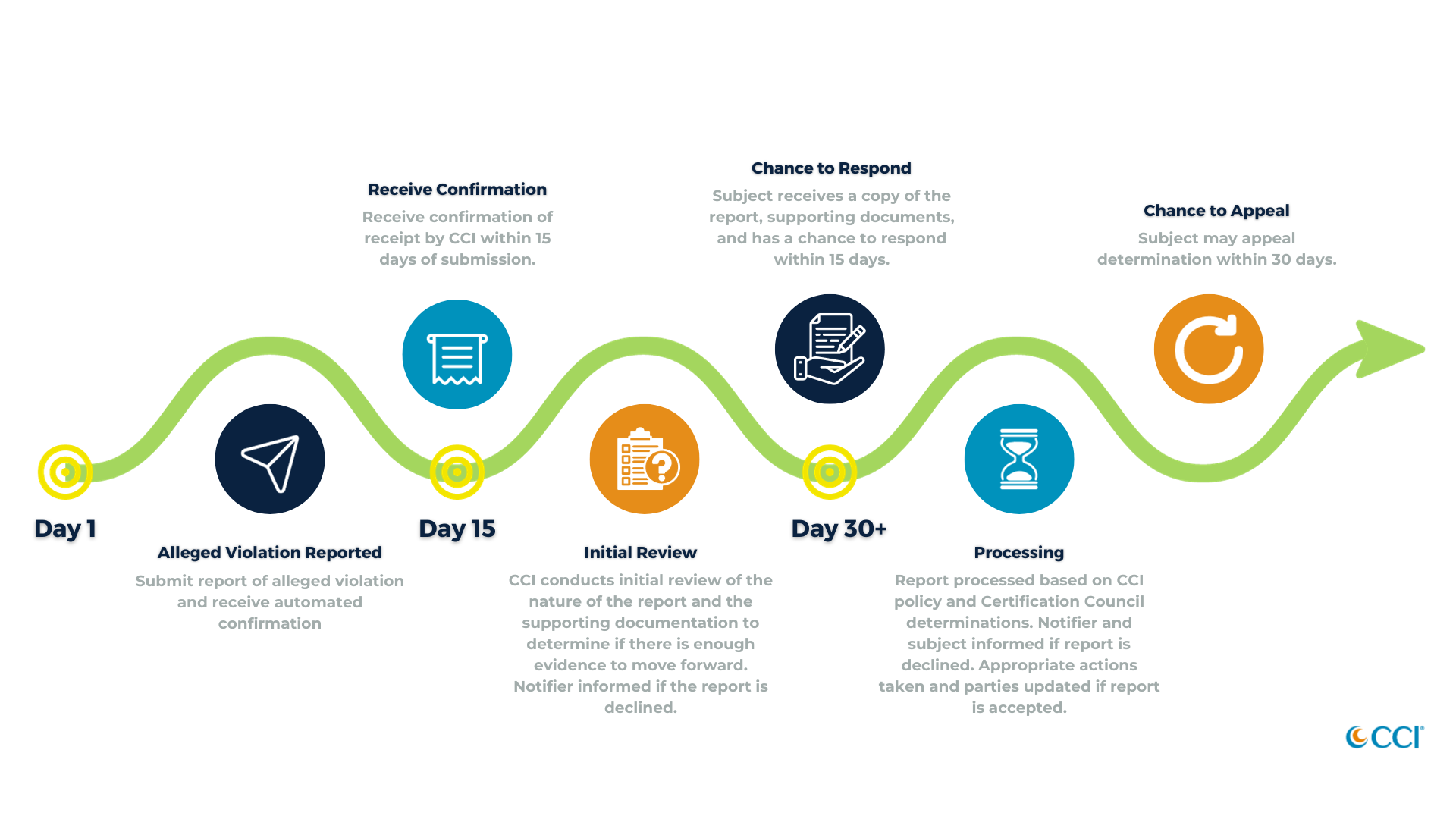 To submit an allegation of a violation, complete the form below.